I saw in another thread that several folks are inspired by the Pre-Raphealites--several of whom used Keats's poems as inspiration for their work. The Pre-Raphealites (and Tennyson) were some of the earliest fans of Keats's work--I think they discovered him while in college and gave him a kind of cult following. I like their work, as well, so I went searching the internet and found several visual interpratations of Keats's poems to share. It looked to me like the most popular poem to paint from was Isabella and the Pot of Basil. Here are a few representations.
This is my favorite, by W.H. Hunt. . .

Here's one by J.W. Alexander. . .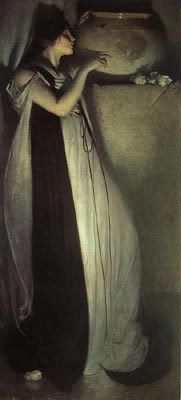 Here's John Waterhouse's version. . .